Sunburst Philadelphia Expands Shutter Line in Bold New Ways
Sunburst Shutters has changed how Philadelphia homeowners think about window coverings, and we're about to do it once more with two new announcements.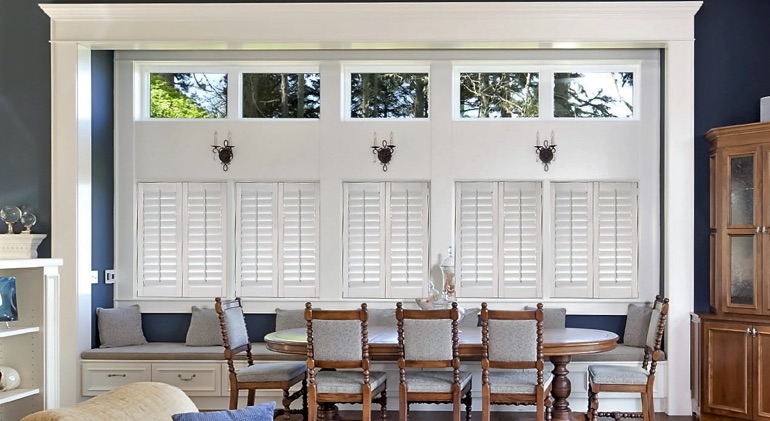 First, we're proud to unveil the newest addition to our award-winning line of plantation shutters–Studio™ Shutters! These state-of-the-art shutters give your house the perks of classic plantation shutters, with a price tag as appealing as the actual shutters.
The shutter news doesn't stop there, as, Sunburst's Polywood® Plantation Shutters will now be available in gorgeous new wood stains, allowing for even more design freedom with Philadelphia's best-looking and best insulating shutter. Get ready to take a look at the new ways your windows can be transformed.
Studio Shutters: New, Streamlined Plantation Shutters

Studio Shutters join Ovation®, Polywood, and Reclaimed Wood as the newest option among Sunburst's plantation shutter line. This faux wood plantation shutter is a charming and stylish step up from common window coverings like drapes or blinds, paired with a value-focused design for more budget-oriented consumers.
Built from an incredibly durable polymer and fit exactly to your windows, Studio Shutters give you the stylish look and discriminating light control of classic plantation shutters, with a sleek new design that keeps value and comfort at the forefront.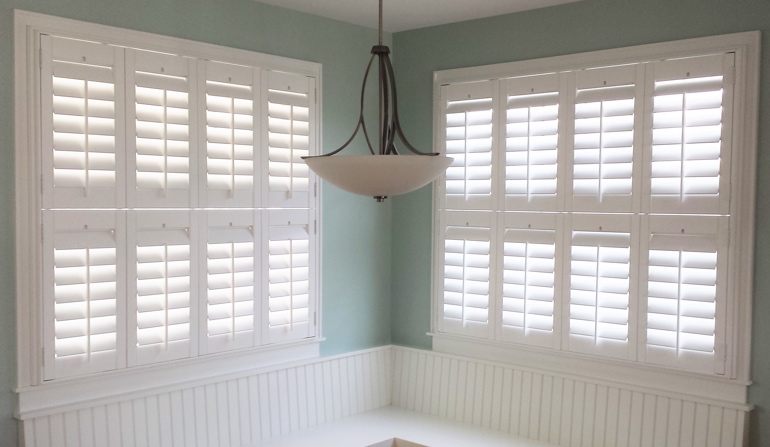 Unlike typical economy shutters, Studio Shutters are constructed from a solid-core material, so they're immune to chips or warping. And unlike natural wood shutters, Studio Shutters are entirely waterproof, which means they're a natural addition to kitchens, restrooms or any room with moisture or humidity.
See more photos of Studio Shutters and what they can do for Philadelphia homes!
Polywood Shutters Receive a Makeover With Wood Stains
The number one interior shutter continues to get better. Polywood has remained Philadelphia's best-selling, best insulating shutter for years. Today we're excited to give you an additional reason to choose Polywood: two brand-new wood stains, giving you the unique look of real wood with the peerless benefits of a premium faux-wood shutter.
The first of our two new Polywood colors is Chestnut, a rich and lively light brown wood color that infuses your space with warmth, and adds color from nature.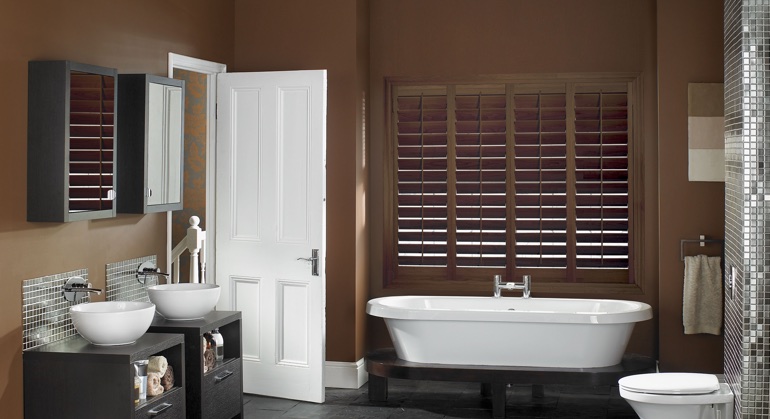 The second of our new Polywood color options is Dark Walnut. It's a cooler, contemporary color that can work as a striking contrast to several home designs. The dark color acts as a solid accent for any home, and pairs well with both traditional and chic, contemporary designs.
Sunburst's new wood stains are backed by a 3 year warranty on the color itself, in addition to a 10 year warranty on the shutter. Just think–all the benefits of Polywood, now in a wood stain finish, without the troubles of natural wood shutters.
Now's The Time To Reimagine Your House, Philadelphia
With Studio Shutters and colors for Polywood Shutters, there's not a more perfect time to take your interior design to the next level. Call 215-874-4897 today to see what these new shutter options can do to beautify your house.