The Importance Of A Waterproof Window Treatment in Philadelphia
No matter where your home is, from Philadelphia to hundreds of miles away, your home has a common need with almost every other house in the U.S.: waterproof window treatments. No matter the layout of your home, the climate outside, or the size of your family living in your house, you'll still have the same rooms that benefit from waterproofing: the bathrooms, kitchen, and laundry room.
Obviously, not all window treatments are made equal in regards to how well they handle moisture and water. To help out, we'll break down effective each window treatment is at dealing with wetness and find out which products work best in the areas that experience the most water.
Level 1: Window Treatments That Can't Stand Up To Moisture
Seasoned Philadelphia homeowners are aware that there are some materials that don't do well with moisture. Go ahead and ask the owner of a hardwood floor what humidity does to lumber. Solid wood hates water, as causes wood to bloat and bow, which can make wood window treatments unusable. Consistent water can also turn the natural hollows of the lumber into the perfect home for mildew. Due to these facts, solid wood furnishings and window treatments should probably not be chosen for spaces that get wet such as the kitchen.
Fabric window treatments are also not great with humidity. Even though the wear to fabric won't be as intense or obvious to the naked eye, prolonged and recurrent exposure to humidity can compromise the weave of several fabrics, and that can lead to discoloration and fabric deterioration.
Level 2: Water-resistant Window Treatments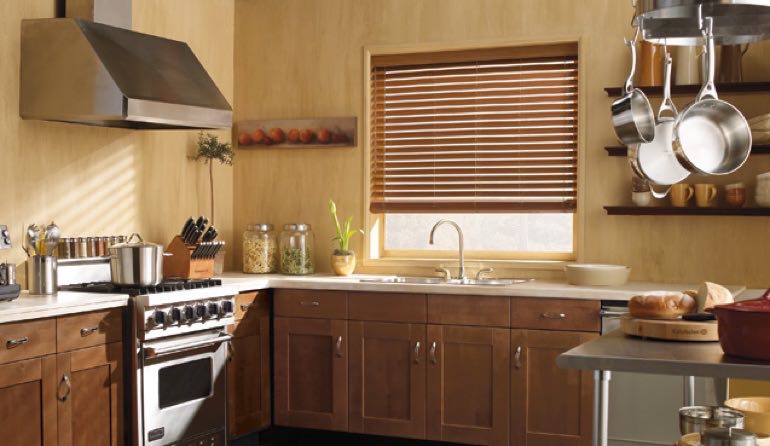 Though not strictly waterproof, window treatments here aren't in danger of permanent damage when chosen for moisture-laden rooms. This category of window treatments comprises almost every product designated "faux wood," such as
faux wood blinds
. Faux wood blinds add the beauty of a solid wood window treatment, adding top-notch fashion to your bathroom and privacy to boot, without the headache that comes every time it becomes too steamy.
Alternative window treatments that are able to stand up to almost all damage from moisture are aluminum blinds. Though they don't possess quite the design appeal and coverage as some other window treatments, aluminum blinds are adaptable. They can be purchased in a huge variety of shades, with available cut out possibilities and additional features for privacy, at the same time being a great fit for the kitchen or bathroom. Remember though that blinds that possess pull cords or fabric bands are not optimal for moisture-laden spaces.
Level 3: Certified Waterproof Window Treatments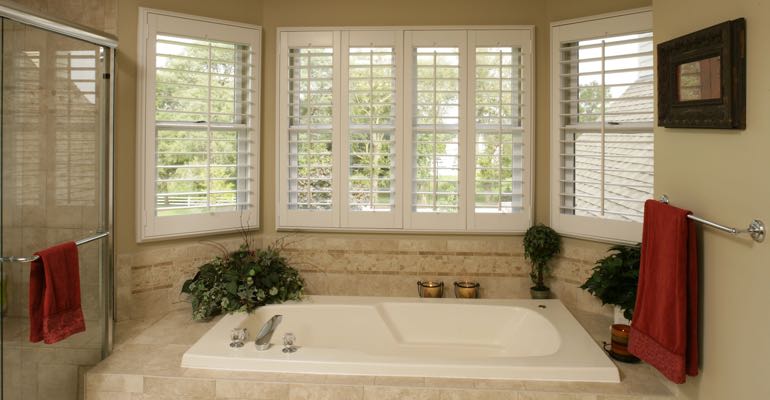 Finally, the category that we've waited for: the window treatment that laughs off moisture, water, humidity and more like nothing else. Sunburst Shutters Philadelphia is proud to offer one of the few entirely waterproof window treatments available in our
Polywood® plantation shutters
. The best partner for the bathroom or laundry room, Polywood shutters are built from a special material that is completely immune to the debilitating effects of humidity, no matter if they're originating inside your home or from outdoors.
Don't believe it? We know the lengths at which Polywood can weather the elements, and we're so satisfied with its resilience that every product is guaranteed with our Lifetime Limited Warranty. In fact, Polywood shutters could be hosed down and they'd still function like new, without any issues.
Make Your Windows Ready For Anything, Philadelphia
If your home is in a humid or rainy part of the country, or if you need new window treatments for the areas of your home with moisture, a waterproof window treatment should be your chief priority. Let Sunburst Shutters Philadelphia help by calling
215-874-4897
to set up your free in-homewindow treatment consultation. And to get additional ideas for those rooms and others, check out our exclusive
Ultimate Room Guide
to find the most effective window treatments for every room in your Philadelphia house!