What Family Room Window Treatments Look Best Your Philadelphia Home?
The family room is where you go to sit back and relax. Within these walls is where you watch the presidential debates, the sports games, and the movies. When the TV is centerpiece of the family room, deciding on a window treatment that complements the décor and also gives you control over glare is not easy. Our team of professionals has considered the different window treatments in Philadelphia, and laid out which enhance your home the best.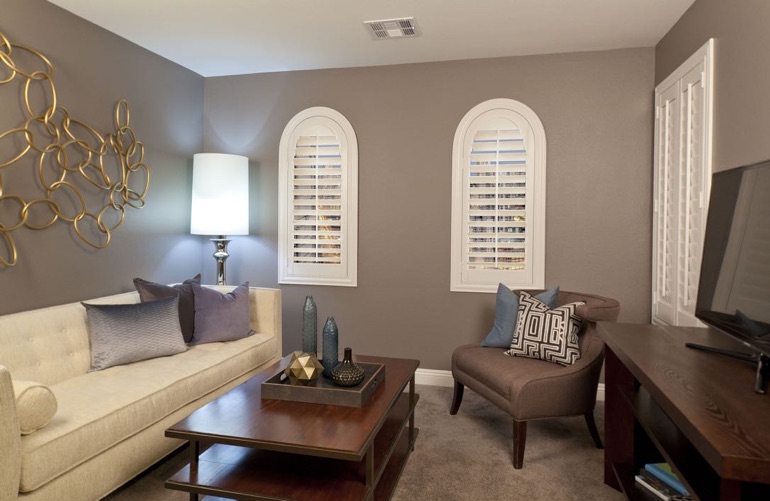 Plantation shutters in Philadelphia are the best window treatment for the family room. You can adjust their louvers for brightness using a tilt rod. And if you want some light from the top but not the bottom of the window, a divider rail gives you that flexibility. Now, you can reduce glare on the TV while enjoying natural light.
Family room shutters are available in Polywood®, Ovation® wood, and reclaimed wood shutters. Polywood shutters are constructed from a synthetic polymer with exclusive weatherstripping, resulting in them being the most energy efficient window shutter. They ensure your family room is insulated from the effects of the weather outside. Now, the indoor temperature is perfect for playing Xbox with the children.
Family room shutters manufactured from wood or synthetic materials can last for decades. And shutters are so sturdy that when a Wii remote is flung at the window by accident, it's not likely to damage the window treatment.
If you want to add warmth and natural charm to your family room, reclaimed wood shutters make it so easy to kick back. Reclaimed wood shutters are the newest plantation shutters product. These family room shutters are constructed from upcycled wood planks that were at one point part of buildings, barns, and fences. The marks, knots, and holes on each shutter louver might inspire you to plan your next camping trip.
Installing plantation shutters in your family room isn't just about having charming window treatments. Plantation shutters become a permanent fixture that boosts the house's value when sold. That's how family room shutters enhance your Philadelphia house.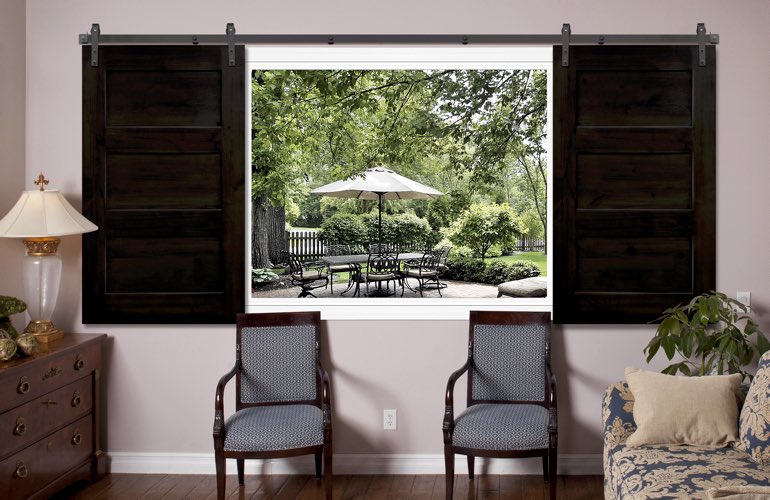 Sliding barn doors are a contemporary family room window treatment in Philadelphia. The panels are the same ones used in sliding barn doors used for traditional doors. You can choose the same hardware, style, and color to match a family room barn door!
This family room window treatment is artwork because it takes the décor of the room to another level, , bringing privacy and functionality. The barn door panels roll sturdily and smoothly, guided by the top-mounted track. Open them to enjoy the view and let in more light. Or close them for more privacy and to reduce the glare on the TV during your marathon watching sessions of "Fuller House".
Blinds For Family Room Windows
Metal blinds come in 70+ finishes, textures, and colors that can be customized to complement your family room's décor. To add a warmer touch to your family room, consider installing hardwood or faux wood blinds in your family room.
Keep in mind that the thin blind slats may not be effective at minimizing glare. It won't be as enjoyable to watch your favorite show with the glare. And if someone accidentally tosses a frisbee at the window - in either excitement or frustration, the blind slats may break.
Shades For Family Room Windows
Shades are available in an array of styles: cellular shades, woven woods shades, roller shades, and Roman shades. For a warm tropical look in the family room, choose woven woods. Roman shades express classic luxury. Cellular shades add subtle charm. And roller shades bring a contemporary touch.
Shades are made from materials that may be too see-through to enjoy the baseball game glare-free. Adda light-filtering privacy liner to shades to block more of the light in the family room.
But the light-filtering liner won't protect the shades from discoloration. UV rays from the sun can cause the fabric to yellow over time. And before you know it, the family window treatment you love looks dated.
Get More Ideas For Family Room Window Treatments In Philadelphia, PA
View the window treatment idea gallery to get inspired for your family room or explore our Ultimate Room Guide to discover window treatment ideas for each room in your home. And when you've made up your mind to order, our team is available to guide you in selecting the best family room window treatments in Philadelphia. It all starts with you calling us at 215-874-4897 or fill out the form below to set up your free in-home design consultation!