What Window Treatments To Choose For Your Philadelphia Custom-built Home
If you're making selections for a custom home in Philadelphia, you strive to find the perfect finishing touches, and that includes the window treatments. It might come as no surprise that plantation shutters are a leading choice in window treatments for custom homes in Philadelphia. Their versatility and beauty complement interiors of all types and give you unparalleled control of natural light. With this in mind you can easily create an inviting atmosphere and illuminate your new home's best features.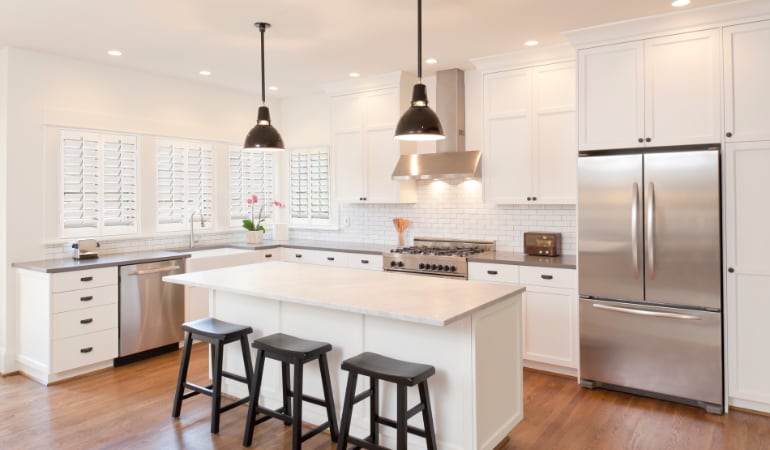 In What Manner Do Plantation Shutters Elevate a Custom Home?
If you are looking to to draw attention to your custom home, think about window treatments that people in Philadelphia install to enliven their interiors. Plantation shutters blend beautifully with homes of various styles. They stand out and catch the gaze of people who are more accustomed to dated curtains and cheap blinds. Their simple but elegant design requires no extra dressing to create a stunning appearance and ensure a positive influence on visitors.
Plantation shutters are a great window treatment choice for a custom-built home. The sharp design and versatile color choices complement any style of home, so you are able to ask your builder to include them in any room and not have to worry how they will look in your furnished home.
Fully customizable, this window treatment works for specialty windows and more standard sizes, so you have the ability to utilize them for windows of any type and avoid the inconvenience of picking different window treatments for each room. You benefit from having a task lifted from your plate during the home building process!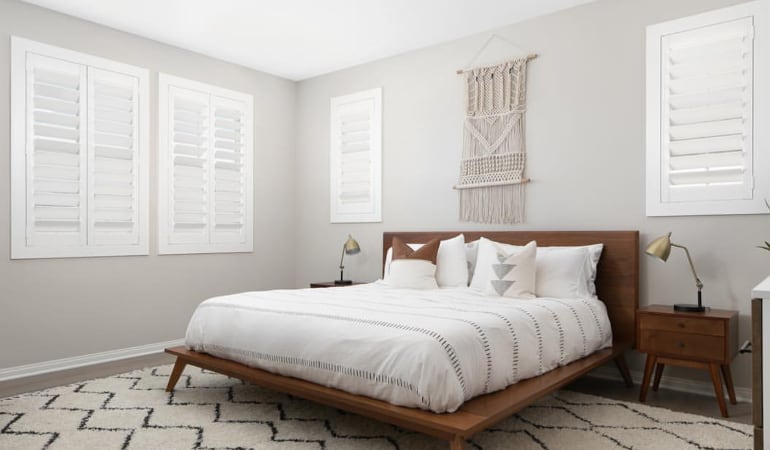 How Do Plantation Shutters Allow You To Control Light?
Your visitors will appreciate the appearance of a sun-splashed home. Although you are likely to select impressive electric lights to brighten your custom home, sunlight has unique qualities that make a space appear bigger or boost its overall character.
Despite its many benefits, sunlight is constantly changing. Over the course of a day, the quantity of light coming through your windows changes, and you have to alter your window treatments to direct the sunlight appropriately. When searching for window treatments for custom homes in Philadelphia, residents often choose faux wood Polywood® and natural wood plantation shutters that allow them to control the intensity of sunshine a space receives.
You can use the tilt rod to change the angle of the louvers at times when there is an abundance of light to give a room a more acceptable level of comfort and adjust the louvers again to enhance the brightness when the sun has shifted to a new location. You are even able to swing back the shutters for a wealth of natural light to generate a bright, airy look and shut them again for a more intimate feel.
Adjusting shutter louvers also allows you to shift the sun's rays. By tilting the louvers in either direction, you can illuminate even the darkest corners to make your space feel larger. You have the ability to filter excessive glare away from people's eyes and flat surfaces that reflect without shutting the slats and eliminating the light altogether. With a single touch, you can control the placement and the amount of sunlight that shines in each space for everyone's comfort.
Find The Best Window Treatments For Your Philadelphia Custom Home
Showcase your home in the best way possible with the alluring design of plantation shutters by Sunburst Shutters. We are your source for elegant window treatments that Philadelphia residents need for their custom-built homes. Reach out to 215-874-4897 or fill out the form below to schedule a free in-home consultation.